Mold Remediation Services
You've probably started realizing some detrimental changes in your home or business due to spreading mold. It's even worse when indoor air gets quite musty, and mold spores start accumulating aggressively on your premise walls, basement, and all the damp corners. Such moments require you to get rid of mold without hesitation.
It's because mold poses health risks like triggering allergic reactions. More so, it lowers the value of your property. But here's the good news: professional mold removal and mold remediation services in Allen, TX, offer comprehensive multi-step mold treatment processes that solve the problem once and for all.
That said, Hippo Carpet Cleaning of Allen is your go-to expert with a track record of the best quality and timely mold remediation near me services in Allen, TX, and surrounding areas. We're experienced and certified, guaranteeing services beyond the obvious.
Our Mold Remediation Services
Allen, TX, residents will agree that local weather can get hot, cold, rainy, or muggy across the seasons. Coupled with water leakages, floods, and poor house ventilation, mold growth becomes common in windows, floors, roofs, and upholstery. But worry no more!
Whether it's in your bathroom, bedroom, kitchen, office, or just anywhere, Hippo Carpet Cleaning of Allen is ready to restore your space with the following proven mold remediation services:
Mold inspection
A technician will visually and technically assess the premise to confirm the source and presence of mold on building and personal items. The focus is on spotting the mold causative agents like water damage and drafting a plan based on the situation for easy remediation.
Mold remediation
Expert remediation helps contain the mold to avoid spreading. Through a proven mold remediation protocol, all areas with mold get cleaned to eradicate existing colonies and sealed off completely. The use of HEPA-filtered vacuums fast-tracks the air filtration clearing any active spores.
Disinfection
Sanitizing and disinfecting your space clears the potential microbes all over. We also give attention to your surfaces, curtains, and furniture. Using a fogging machine to disinfect and deodorize everywhere, you can be sure of a refreshed and healthy space.
Mold testing
Mold presents in various strains. Testing allows us to clarify the type, source, extent, and best mold remediation chemicals to use. We'll also test the indoor air, temperature, and moisture levels to have a complete know-how of the situation before remediation and for your insurance.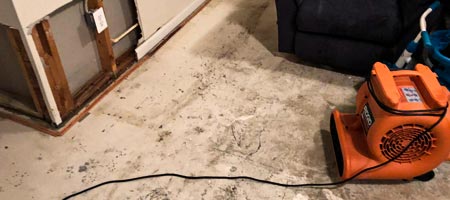 Prompt and Efficient Mold Removal Process
From inspection to testing and remediation, the earlier mentioned services take place during the mold removal process. Are you seeking mold removal services for the first time?
Here's how to go about mold remediation:
Consult our trained mold remediation technicians
Property visit and mold inspection follows
We plan for remediation
Strategically containing the mold
Eradicating contaminants, cleaning the space, and disinfecting thoroughly
Why You Need Professional Mold Remediation Service
Do you own or manage homes, apartments, institutions, or business facilities? A professional black mold remediation company for residential and commercial clients in Allen, Texas, should be at the top of your mind. The Hippo Carpet Cleaning of Allen highly reputed technicians embrace modern expertise, high-end equipment, and proven work strategies to eradicate mold and mildew.
Work with a mold expert and enjoy the following:
Guaranteed work health and safety
Work without disruptions
Fixing whatever your premise needs
Saving time and money
100% customer satisfaction
Value for your money
Strategic remediation planning
You get more from our experts. We have partnered up with FDP Mold Remediation of Dallas, to increase our availability and reduce the response time for appointments. Mold can't wait, and you shouldn't have to either.
Book an Appointment Today
As an insured, licensed, and certified mold remediation expert, we at Hippo Carpet Cleaning of Allen understand mold can get out of hand. Luckily, our professional mold remediation approach brings you mold-free living now and in the future. Are you looking forward to a valuable transformation? Welcome on board!
We're available 24/7 to answer all your questions and offer free consultation and mold remediation cost estimation. Call us today at 469-656-4155 and allow us to prove to you that we're the best mold inspection, removal, and remediation experts in Allen, TX.