Mold Testing Services
Mold is a serious problem that affects millions of people every year. It can cause terrible health problems and even death in some cases. But there's good news! You don't have to live with mold anymore, thanks to our easy, affordable mold testing services in Allen, Texas. Professional mold testing service in Allen, Texas, is available from Hippo Carpet Cleaning Allen at a low cost so you can finally get rid of the dangerous stuff once and for all.
We offer fast results from our experienced technicians who will come out to inspect your home or business and give you an accurate report on what kind of issues need fixing before it becomes worse than it already is. Our mold testing services are flexible enough to work around any schedule you might have.
What Is Mold Testing, and Why Do I Need It?
Mold can appear just about anywhere if the right conditions are present. Common places mold is found are basements, bathrooms with leaking pipes, dishwashers or refrigerators, around windows and doors where rainwater has gotten in over time, and also on surfaces exposed to excessive humidity or water damage. Mold spores are constantly floating through the air, so they come in through open windows and doorways without you even knowing it!
Then they grow on any surface they can find in your home when moisture becomes trapped inside. Mold is most dangerous because it releases microscopic particles into the air that are easily inhaled into our lungs, where they stick around for days or weeks at a time. So, when you have dangerous mold in your home, you'll be breathing in toxins all day long.
If left untreated for a long time, the mold can destroy the walls and other structures of your house, so it literally starts to fall apart. This is why professional inspections by certified black mold testing companies are essential- they let you know how bad things have gotten before it's too late to repair them.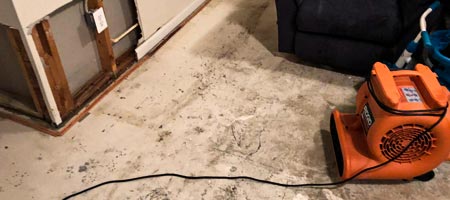 How Do I Keep Mold Out of My Home in the Future?
If your home is already infested by mold, getting professional mold testing services and remediation which may include water damage restoration is your best way out. To prevent mold from growing in your home, you need to control moisture and humidity. If necessary, use a dehumidifier and wipe down showers and bathtubs after every use with hot water to avoid that lingering dampness that causes molds to grow. Don't ever let puddles of rainwater or melting snow sit on the ground outside because they trigger black, green, and white molds very quickly!
Why Hippo Carpet Cleaning Allen?
Hippo Carpet Cleaning Allen has been around since 2005, and we're proud to say that we've helped many people get rid of their mold problems! We know what we're doing, and our technicians are clean-cut professionals who take pride in their work. Our customer service team is excellent, so call us any time if you have a question or problem.
Hippo Carpet Cleaning Allen has built our mold testing services on the foundation of safety, reliability, and quality service at an affordable price. That's something we take seriously because we know what kind of detrimental effects mold has on people, and no one should be living in those conditions!
Don't Wait Till It's Too Late
We know that indoor mold is a problem which needs to be given the highest importance. Since mold inspection and testing is the first step in returning your property to normal, we have partnered with O2 Mold Testing in Dallas to ensure that we are available for all our customers, with superior response time and service.
We offer fast and reliable mold testing services. Our technicians are highly trained in treating mold as well as removing it to keep you safe at all times. Our team will come out to your property, collect samples from affected areas, and send them to our mold testing laboratory for analysis. Once we have the results back in a few short days from our lab experts, we'll provide recommendations on how best to eliminate the mold growing in your home as soon as possible! Call 469-656-4155 for a free estimate!